Activities
Bio Bay Tours
Boating
Cycling
Diving & Snorkeling
Fishing
Horseback Riding
Island Tours
Jet Ski
Sailing
Surfing & Paddleboarding
Boating & Sailing in Vieques
Experience spectacular views of the sea, sky and Vieques Island.
Vieques is a fantastic place to set sail, no busy ports, just peaceful and tranquil aqua-colored waters offering some of the very best boating & sailing in the Caribbean. Set amidst a spectacular backdrop of lush greenery, protected bays and stunning beaches, boating & sailing in Vieques is ideal. With a multitude of snorkeling spots and plenty of pristine beaches, charters can take you to shores and sights not reachable on foot or by car. Fun and relaxing, being on the ocean here is truly an amazing experience.
Whether you're embarking on a snorkeling adventure or a romantic sunset cruise, an exploration of Vieques' seas may be the highlight of your Vieques vacation.
Sailing In
If you are sailing the Caribbean in your own boat, Vieques could be a fun place to stop. Be advised, there are no marinas here. You will need to anchor off Esperanza on the south coast or Isabel II on the north coast and dinghy in. Esperanza has two offshore cays that provide some protection to the harbor. In both towns, there are restaurants and bars right nearby, also places to buy ice and groceries within walking distance. Secure your dinghy and valuables with care.
Our sister island, Culebra, is very popular with sailors because it's well-protected harbor is considered to be a top notch Hurricane Hole.
Boating & Sailing Day Charters
Seems like we've waited a lot of years to have a day charter company sailing out of Vieques. Most day tours include secluded reef snorkeling with all gear provided, lunch and introduction to recent island history. They get booked well in advance, so be sure to contact them for reservations.
Featured Partners ☆ Boating & Sailing
Sailing Charters
Captain Judi is a USCG licensed captain, #3401465.
Captain Judi has decades of boating behind her and the sea is in her blood. Her enthusiasm for sailing, snorkeling, and the island of Vieques shows and she will share it with you. Her able crew will attend to your every need, whether it means keeping a drink in your hand or preparing your snorkeling gear for you...you will leave the boat feeling pampered, yes...but you will also leave the boat feeling like you've been shown the most glorious slice of Vieques that nobody else gets to see!
 
Sailing Charters
Fully licensed by U.S. Coast Guard, D.P.N.R, insured, and endorsed by Tourism Company of Puerto Rico
Caribbean Lady Sailing Charters Tom and Ann have been sailing and chartering in the Caribbean for the past twenty six years. He taught high school Earth and Space Science in Miami-Dade Public Schools. Captain Tom is a Navy veteran and holds a 100 ton Coast Guard License. He comes from a long line of Taino mariners and is fluent in English and Spanish. Ann taught a 3 year Food Production Program in M-D Public schools. She is an accomplished chef and prepares several dishes that will tantalize guest palettes during day charters.
Boating Charters
Captain David Young is USCG-100 Ton Master NC licensed and has a lifetime of boating, fishing, and scuba diving experience.
Fin Time Adventures offers exciting snorkeling, fishing, and custom boat charters in Vieques, Puerto Rico. Climb aboard the only vessel on the island with regularly scheduled snorkeling trips to the coast of Culebra and Flamenco Beach.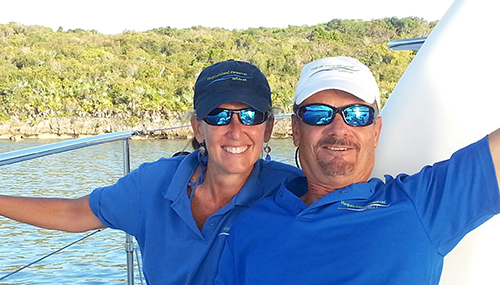 Powercat Charters
Captain Ron Solt and his First Mate Kathy Taylor are both Licensed Captain. The Wildcat is a USCG Commercial UPV Inspected Charter and we are fully insured.
Extremely stable the Wildcat is comfortable to cruise on even in larger seas. So you can ride in style to our great snorkel spots along the south shore. The crew of the Wildcat provides concierge service. Because we limit the number of people on each trip - you are insured personal service and lots of room on the expansive Wildcat.